I'm a big music lover. There's very few genres that I can't really abide – Country and Western, soulless 'Soul', and what passes amongst the youth of today as r 'n b spring to mind.

I'm also a huge movie fan, and again, few genres prompt me to switch off. I'm not a horror movie addict, nor do I relish the sort of chick-flick designed to simply make me weep uncontrollably.

I mention these two things about me simply to set the scene for my next, potentially heretical statement: I absolutely love when someone cleverly, and accurately, rips either genres apart for entertainment and laughs. Most things you love would not evoke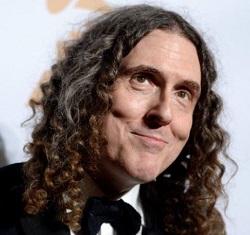 any feelings of joy at their deconstruction and derision, but somehow, when well done, music and movies benefit greatly from what we all know well as 'the spoof'.

Spoof music seems rarer these days than spoof movies, and the master is no doubt Weird Al Yankovic. Al is the source of such gems as:

"Another One Rides The Bus"
"Eat It"
"I Think I'm A Clone Now"
"Canadian Idiot"
"Like A Surgeon"

Al's music, like the best movie spoofs, rely on a familiarity with the source material to get the most out of them, and these are certainly true of the two movies I'm going to praise in a while.

In all spoofs, when the artists don't quite get it right, the results are sadly disappointing. Movies such as "Meet The Spartans" and "Scream If You Know What I Did Last Friday 13th" go too far and with material I really don't know, so for me fall far short of the mark. Others, like "This Is Spinal Tap", get it very much right.

However, the two best ever spoof movies are easily Carry On Screaming, and Galaxy Quest.

Carry On Screaming is a tribute, an homage, to all that is wonderful about the movies from the Hammer studios of the sixties. It's filmed using similar techniques, on the exact sets and with costumes borrowed from the studio itself.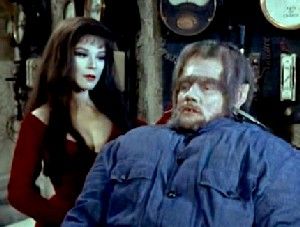 Carry On Screaming starred the brilliant Harry H Corbett in his only Carry On role, as Edwardian police detective Sergeant Sidney Bung, lumbered with an inept assistant and a baffling case: the disappearance of a number of women, all in the same woods, all within the last year, and no evidence whatsoever to go on. When Doris Mann, another girl, goes missing, Bung works with his sidekick Slobotham (Peter Butterworth) and Doris's beau Albert Potter (Jim Dale) to solve the mystery.

But it's not a straight-forward case, as there are mysterious forces at work.

The girls are being abducted by re-animated monsters and taken to the laboratory of Dr Watt (Kenneth Williams) and his sister Valeria (Fenella Fielding). Together, they are running a business supplying mannequins to the local clothing stores, when in truth each dummy is a real girl, vitrified and baked to a rock-hard finish.

As you would expect from a Carry On, there are plenty of sight-gags, slapstick, corny jokes, double entendres galore, and every performance is given with gusto. But it's the attention to detail, and the faithful adherence to the Hammer code that makes Carry On Screaming such a wonderful movie. It's good on its own, but when you know the Hammer films, it is so much better because of its recognisability.

Which leads me on to Galaxy Quest.

Galaxy Quest is simply superb – probably the best spoof movie of all time. It's a spoof not only of the Star Trek shows (specifically the early shows of Kirk, Spock and McCoy) but it's also a finely-delivered spoof of the whole fandom / convention culture that has grown up over the past forty years.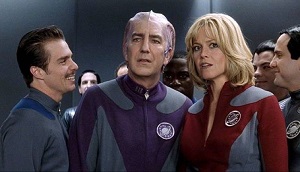 The movie starts at such a convention, for the long-cancelled sci-fi show Galaxy Quest. The fans are there in their costumes, the vendors are there selling all manner of Quest-related tat, and backstage, the cast are waiting to appear on stage. But you can tell straight away that they are tired of it all. Not the success of the show, or the fans themselves, but of Jason Nesmith (Tim Allen), the very Kirk-like Captain Peter Taggart. Nesmith loves all this stuff, and never seems to notice, or give credit to, his co-stars. So Sir Alexander Dane (the alien Dr Lazarus), Gwen DeMarco (the lovely Tawny Madison), Fred Kwan (Chief Engineer, Deck Sergeant Chen) and Tommy Webber (former child actor and helmsman, Laredo) are very sceptical indeed when Nesmith turns up very late to an appearance and tells them a tale. He has just returned from the other side of the galaxy, where he helped the Thermians, an alien race who contacted him at the convention, in their fight against the evil General Sarris. Actually, up until they sent him home, Nesmith himself thought it was an appearance for fans of the show in a studio somewhere…

It's not until the rest of the crew are transported back to the Thermian ship that they realise it's all real. And then it's too late, as they have to face up to being actors thrown into reality, with a race of aliens who have modelled their entire civilisation on what they call "the historical documents" – transmissions of the show that have travelled out far enough. They are soon overpowered and disabled by Sarris, and need to start living their parts if they, and the Thermians, are to survive and get home.

Galaxy Quest has some very good actors (Sigourney Weaver, Alan Rickman, Tim Allen, Sam Rockwell) but again, it's the attention to detail and the clever portrayal of instantly recognisable Trek elements that bring it to life. There are scenes reminiscent of The Wrath Of Khan, many early away missions on alien planets, there are phasers and transporters, basically, you could replace pretty much all of the characters with the original Star Trek crew and it would still work.

And that's the test of real spoofs – could they stand alongside the source material and not look out of place, and are they loved by fans of the very music or movies that they ridicule so mercilessly. In the case of Weird Al, and in the case of both Carry On Screaming and Galaxy Quest, the answer, my dear cyberfriends, is a resounding yes.