To celebrate the release of Tinker Tailor Soldier Spy on DVD and Steelbook Blu Ray this week, we were sent a countdown of the top 10 spy films over the years by those nice PR people. They told us to do with it as we wished, so we added an extra ten titles for a top twenty. See if you can pick out the ones we chose (we would have found space for Double Agent 73, but who ever heard of a top 21?).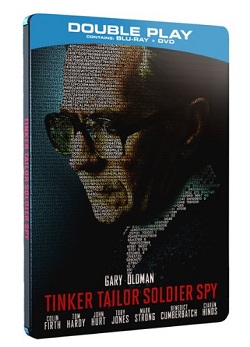 20. Mr and Mrs Smith
The film stars Angelina Jolie and Brad Pitt as a bored married couple who learn that they are both master assassins when they are sent on the same job. After the double booking they begin to suspect each other and so the cat and mouse game of catch the spy starts. The film develops as this great action/comedy for the first half and the second goes balls-to-the-wall action. This is definitely one of those films people need to be more honest with themselves and just admit that it's plain awesome.

19. Spies Like Us
Chevy Chase and Dan Akroyd are two bad spies. However, they are sent on a decoy mission to keep the bad guys focus on them as opposed to the real spies who're trying to save the day. But somehow they end up saving the day anyways. Directed by John Landis, a classic that is sure to keep you laughing on the edge of your seat.

18. The Kremlin Letter
John Le Carré influenced a whole strain of spy movies as much as Ian Fleming's most famous creation did (no, not Chitty Chitty Bang Bang), and this was one of the more bitter depictions of the life of a spy, essentially comparing it to prostitution. Not easily followed, if not easily forgotten either, and that included the sight of George Sanders in drag.

17. Carry On Spying
Notable as one of the earliest Bond spoofs, and it was part of another British institution, the Carry On series. Here Bernard Cribbins teamed up with Barbara Windsor to foil a dastardly plot by an international organisation, oh, and dress up as belly dancers for no good reason at all. Watch out for Babs' photographic memory.

16. The Tailor of Panama
John le Carré's books are resurgent thanks to the new film adaptation of Tinker, Tailor. This 2001 John Boorman movie sees Geoffrey Rush's tailor reluctantly finding himself acting as a spy, with disastrous consequences. Also starring Pierce Brosnan, Jamie Lee Curtis, Brendan Gleeson, and Daniel Radcliffe (in his film debut) this is sure to keep you engaged.

15. Munich
The film, based on a true story, shows how a squad of assassins, led by former Mossad agent Avner (Eric Bana), track down and kill a list of Black September members thought to be responsible for the eleven Israeli athletes' murders. This is a powerhouse of a film, that's beautifully acted and scripted.

14. Mission Impossible
Following on from the television series of the same name, the plot follows a new agent, Ethan Hunt (Tom Cruise) and his quest to uncover a mole within the Impossible Mission Force who has framed him for killing his team. That dangling scene and an absolutely cracking theme tune make this a memorable movie adaptation.

13. Syriana
A politically-charged epic about the state of the oil industry in the hands of those personally involved and affected by it. Starring and executively produced by George Clooney, Syriana is not for the faint of heart. With complex storylines and a torture scene that is sure to stay with you for some time, this is a film that will leave you equally exhausted and exhilarated.

12. The Lives of Others
If you wondered what it would be like to be spied on every day of your existence, then take a trip back to Communist East Germany for this depressingly true to life tale as an artist is placed under surveillance by one of his neighbours, an actual Stasi spy. But the spy begins to realise the aching emptiness of his existence in one of the most convincing looks at a police state of recent times.

11. Ministry of Fear
Director Fritz Lang was no stranger to spies, one of his previous films had been the German silent favourite Spione, but for many this was the best example of suspicious minds he ever thought up as Ray Milland makes his way through a wartime England where anyone could be the enemy out to silence him for knowing too much.

10. Taken
Should you kidnap a hot American girl to sell on the black market, be sure her father isn't a former spy that can come, find you, and kill you. Liam Neeson reminds us that he can still be a grade-A action star. The film takes us through the streets of France in an action packed Spy film with a ticking clock as a man tries to find his daughter.

9. The Deadly Affair
Here was one of the earliest incarnations of the George Smiley character, played by James Mason under a different name as your man tracking down the bad guys in a drab London full of Brit character actors (sound familiar?) with only the loyal Harry Andrews for company. Interesting for what it pointed to in the genre, it was an absorbing and vivid espionage thriller in its own right.

8. Austin Powers: International Man of Mystery
It took thirty years or so, but in the nineties came along one of the best send-ups of the Bond franchise as viewed through the lens of all those sixties groovy movies which jumped on the bandwagon. Mike Myers was the comedian displaying commendable dedication to the double, and at times single, entendre, and Harry Palmer himself, Michael Caine, showed up for the third instalment.

7. The Bourne Trilogy
Matt Damon plays former CIA assassin and psychogenic amnesiac Jason Bourne, the twenty-first century spy embroiled in international intrigue so confusing and unpredictable that his mission transforms from revealing others' identities to discovering his own. The fourth movie, The Bourne Legacy, is scheduled for release in August 2012.

6. O.S.S. 117: Cairo, Nest of Spies
Jean Dujardin may be making waves as the lead in Oscar-nominated The Artist, but those in the know spotted him here first, in the hilarious send-ups of the vintage French secret agent series O.S.S. 117. Followed by an equally funny sequel set in Rio, the clueless spy created chaos as he tried to do his duty for his beloved France.

5. The President's Analyst
James Coburn is the analyst of the title - he had appeared in his own Bond spoofs, the Derek Flint movies, but here was the perfect summation of the paranoia which informed the spy flick from the sixties onwards, where everyone is out to get everyone else, and the real power in the world is whoever controls the phones. It's a comedy, but it's a mighty weird one.

4. Foreign Correspondent
Alfred Hitchcock was very fond of the spy game for his classic thrillers, where his innocent men on the run wound up at the centre of all sorts of conspiracies - The 39 Steps, The Man Who Knew Too Much, North by Northwest, the more Cold War-informed Torn Curtain, and so on - but this World War 2 suspense favourite was one of his most ingenious. It's one of the finest examples of propaganda ever made, to boot.

3. The Ipcress File
One British superstar who owed a lot to the spy movie was Michael Caine as his turns as Len Deighton's ordinary bloke turned reluctant secret agent in three films made him the celebrity he is today. In the first, his cooking and glasses-wearing caused as much of a stir as his investigations, the ideal counterpoint to Bond's derring-do, though things do get psychedelic as keeping with the times before the end.

2. Dr. No
The first James Bond movie, with Sean Connery snugly fitting into the role he would define for the next decade, is also the closest the series has to offer in the way of a no-frills spy thriller. It adhered to the classic spy paradigm perfected by Hitchcock but also started a trend of modern, paranoid Cold War espionage movies that would pave the way for darker entries like The Spy Who Came in from the Cold. It's light on the gadgets that would eventually make Bond a lark, and instead bets on the tough and gritty - yet still adventurous and sexy - work of a real spy.

1. Tinker Tailor Soldier Spy
Set in the 1970s, George Smiley, a recently retired MI6 agent is doing his best to adjust to a life outside the secret service. However, when a disgraced agent reappears with information concerning a mole at the heart of the Circus, Smiley is drawn back into the murky field of espionage. Tasked with investigating which of his trusted former colleagues has chosen to betray him and their country, Smiley narrows his search to four suspects – all experienced, urbane, successful agents – but past histories, rivalries and friendships make it far from easy to pinpoint the man who is eating away at the heart of the British establishment.