What is the purpose of a trailer? To make the viewer want to see the film it advertises, of course, and in the nineteen-seventies as censorship rules were relaxed there appeared a new breed of trailers to bring the latest exploitation movies to the public. These minute or two minute long bursts of energy were designed to whet the appetite, and in the United States cutting them together from the raw materials of the actual movie became quite a skill in itself.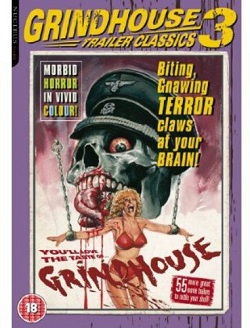 Thus these previews had no qualms about giving away major plot points, or spoilers as we would call them nowadays, as long as whatever footage they employed made the product look as exciting as possible. In practice this meant packing them with shots of every scene with a car chase, a fist fight, a sex scene or nudity, gunfights, and more, as if to say (usually in a very deep voiceover) look, here's a movie that will finally live up to all the hype we're throwing in your face, no matter if actually watching the thing would rarely amount to as an exciting experience as promised by the advertising campaign. These were not always for American flicks either, as European and Asian efforts received the same treatment.

Sometimes you would get lucky, and find a gem among the dross, but for those with a taste for such screen antics it was always worth investigating the more intriguing trailers to see if just this once you'd go along to the drive-in or the cheapest cinema in town and have your expectations met. Of course, for many seeing the trailers didn't matter quite as much as the distribution companies would have liked to think, as you were either going to go out on Saturday night to the movies or you weren't, and what you got to watch there was not really all that important as long as you had some way of killing time with your buddies or your partner. Though if you were watching these in a British cinema, it was more likely you would have sought them out as something out of the ordinary than your American cousins might have.

Fast forward to the present day and these trailers are part and parcel of cult movie fans' appreciation of the grindhouse circuit and their entertainments, so no matter how much it is attempted to recreate that sense of the forbidden and the extreme, the modern imitators will always be that: the imitators. This makes the compilations of grindhouse trailers, a tradition which started way back in the eighties with such videocassettes as The Best of Sex and Violence or Sleazemania, something to be treasured, and Nucleus have been bringing out volumes of these under the Grindhouse Trailer Classics banner, the latest of which is the third.

On this disc you can marvel at how many of these pop culture artefacts feature car chases (driving on two wheels a speciality), or stewardesses, or bad dubbing, or female convicts, or are so concerned with presenting the highlights that they fail to make any sense whatsoever. There's a mixture of the slightly better known - Black Mama White Mama, Macon County Line, The Candy Snatchers, Terminal Island - with the very obscure, some with famous faces, others with nobodies, often ridiculous, at other instances patently not able to meet their promises, and all the better for setting the dedicated a challenge to track them down now that many are being released on Blu-ray and DVD. As extras, there are more trailers and an overview from genre expert Kim Newman, but mostly you can relax and amuse yourself at how over the top and at times hilariously oversold these movies were for around an hour and forty minutes. If you do decide to look further, there's a whole world of these cult items waiting.