B- and certain mainstream-movie enthusiasts may recognize The World's Greatest Sinner star/writer/producer/director Timothy Carey, his tall sinister features making him very effective as a nasty piece of business in many films. In the essential Cult Movie Stars book, author Danny Peary dubs Carey "The nightmare blind date for your daughter," a very astute description. But rather than casting himself as a murderer here, Tim seemed bent on enacting career suicide with a pic certain to have raised a ruckus in '62.

Image that sort of thing happens when your lead character appoints and renames himself God, complete with jacket-sleeve embroidery bearing that moniker…and decks his young daughter when she implores him to read the Bible. Nearly a half-century later, you can still hear theatergoers storming out when the lead smirks "Jesus Christ: What a joke." This comes after stealing a communion host and repeatedly jabbing a straight pin through it!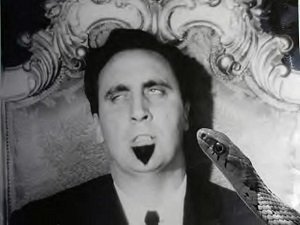 Fired insurance salesman Clarence Hilliard (Carey) is a real multi-tasker. When not preaching about superiority, he's a twitching rock star running for President and fornicating female followers, from jail bait to grannies. You've seen the whole "humble everyman becomes consumed by sudden fame" storyline oft-times before, but I triple-guarantee you've never seen it presented like this.

Bear in mind, Sinner was released smack-dab in the midst of Kennedy Camelot, when the common schmo was striving heartily to conform, and out for wholesome family entertainment (when not hosting wife-swap parties.) This was about as in-yo-face-Ace as it could possibly get, absolutely NOT what John and Joan Q. Public were hankering for after a busy day of attempting to model their lives after The Dick Van Dyke Show. Clearly, Carey was intent on not presenting the cinematic equivalent of comfort food. (Either that or he was completely insane and actually believed this film had true commercial potential.)

Lest anyone miss the point, Carey makes sure to go waaay over the top with whichever version of his character he is playing. TC doesn't just sing songs; he has veritable spaz attacks with each number. Decked out in a lame' jacket and throwing himself around the stage with total abandon, he looks like Elvis OD'ing on "pep pills" upon suddenly coming down with a case of the flaming uglies.

Rather than take the usual fade-out during an intimate moment, when the loony lead goes gigolo-ing to raise funds for his political ambitions, Timothy the director lets the camera linger as Timothy the actor gets into a hot-and-heavy makeout session with a woman approximately 70 years old… not exactly the easiest thing to get comfortable watching (which very well may have been the point.) This business is so alarming, you may find yourself striking your best Fists Of Fury defensive pose next time your grandmother moves in to plant a peck on your cheek.

Hey, you don't know where those lips have been…and she's had decades to…eeeeooooh!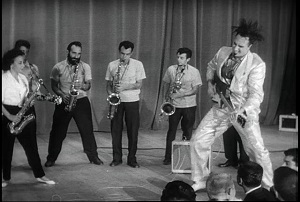 Furthermore, what on Godzilla's green Earth is that gunk resembling an immense slime slug trail?!?

Adding to the festivities, with his half-shut eyes, herky-jerky movements and disheveled appearance, Carey looks seriously trashed through much of the gem's 82 minutes! That could explain plenty, but, personally, I'm hoping the late Tim-of-all-trades knew exactly what he was doing from the very first keystroke of the script.

Some may translate World's Greatest as a morality tale examining the wages of sin, existence of god and all that holy-roller mumbo-jumbo. Carey may have even told people that, in an attempt to cast a chill spell over red-faced Bible-thumpers, crying "Blasphemer!" But I like to believe Timothy was just being a wise guy, waving an enlarged middle finger at the squares with the 2.5 children and picket fences.

Keep your eyes open during the credits, too. You'll note future writer-director of the incredible The Incredibly Strange Creatures Who Stopped Living And Became Mixed-Up Zombies, Ray Steckler, operated a camera here, and music is credited to "Zappa" (no first name, but it is indeed Frank) in his pre-Mothers Of Invention days.

And, brothers and sisters, just to illustrate the world is a maze-a from which there is no escape-a, and you are doomed to repeat your errors forever and ever, amen--unless you too find salvation as an evangelistic rock-crooning political candidate--that same Mr. Zappa appeared in The MONKEES' cinematic attempt to ram a stake through their careers, the 1968 release Head…...featuring a menacing character portrayed by Timothy Carey.


The photo-illustrated version of this review--a dozens more like it--can be found at www.ManorOnMovies.com