Andrew Pragasam

Obviously, any best of list is bound to be subjective. Long-term readers of this site won't be surprised mine leans heavily towards Asian cinema and betrays a fondness for fantasy and juvenilia. Fact is the Noughties were great for family movies. It's been a funny old decade for international filmmaking, great for Spain, Korea and yes, the UK, so-so for France and downright disastrous for the once-unassailable Italian film industry. Despite the ongoing rash of bad horror remakes, overblown franchises and truly wretched comedies, the past ten years have seen indie and foreign filmmakers making really offbeat and interesting movies in Hollywood, fantasy cinema engaging with real social issues and a revival of the musical. For my two-cents the 21st century is a great time to be a moviegoer. So in no particular order:

My Sassy Girl (2001) - South Korean romantic comedy that's laugh-out-loud hilarious and genuinely romantic. Hugely inventive, it spawned a virtual cottage industry of imitations plus the inevitable Hollywood remake.
I Served the King of England (2007) - Thirty tumultuous years of Czechoslovakian history retold as a slapstick sex comedy (!), wherein Chaplinesque lead Ivan Barnev scores with a jaw-dropping panoply of beautiful women. Now that's history come alive!
Pan's Labyrinth (2006) - A heart-wrenching hymn to the power of fantasy and imagination to give strength to the weak and vulnerable in trying times.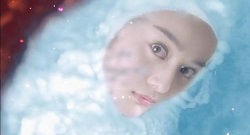 Spellbound (2002) - Turns a Junior Spelling Championship into a metaphor for American life, with a finale as taut as any thriller.
Lost in Translation (2003) - Wherein a former Ghostbuster headlines a wistfully beautiful art-house romance, Scarlett Johansson rules the screen and Tokyo looks like the most romantic place in the world.
A Chinese Tall Story (2005) - An acquired taste but few Hollywood blockbusters gave me as much joy as this Hong Kong sci-fi love story-cum-fairytale spoof.
Hansel and Gretel (2007) - Ingenious South Korean ghost story about a man trapped in a twisted fantasy world created by three creepy kids.
Spider Man 2 (2004) - Action, laughs, heartbreak and joy, all part of the one summer blockbuster that really delivered.
City of God (2003) - It took a Brazilian to make the kind of visceral, intelligent crime thriller we were expecting Tarantino and Scorsese to make.
Bridge to Terabithia (2007) - A Disney film that contemplates life, death, God and how art can make sense of a seemingly disordered universe. No really, it does.
The Dark Knight (2008) - Drops the ball slightly towards the end, but how exciting to see a superhero movie fuelled by such ambitious ideas.
Hero (2003) - China's complex cultural identity translated via art, calligraphy and kickass moves.
Spirited Away (2001) - Even more ingenious and subversive than you think.
A History of Violence (2005) - Cronenberg's most emotive and accessible movie in years is very much a modern western.
Babel (2007) - Trashed by practically every critic in Britain. I'll stick my neck out and say this embodies everything exciting about filmmaking in the 21st century.
Eternal Sunshine of the Spotless Mind (2004) - Because an ingenious filmmaker and a great cast firing on all eight cylinders are heart-wrenchingly honest about love, loss and relationships. Not because Kirsten jumps about in her undies. Honest.
Amelie (2001) - Not one for curmudgeons. Cinema at its purest: a girl, a boy and a box of tricks.
Let the Right One In (2008) - A superb love story that brought emotional depth and twisted romanticism back to horror movies.
Million Dollar Baby (2004) - Starts out as a gender-bending twist on Rocky, then goes somewhere else entirely. An old-fashioned weepie featuring Clint's best acting performance.
Holes (2003) - Disney's time-hopping, feel-good family movie is a true original.
The Incredibles (2004) - For Dash's evil laugh when he runs across water.
My Summer of Love (2004) - Hailed as a modern classic, then inexplicably forgotten. Best British movie of modern times.
Kingdom of Heaven: Director's Cut (2005) - If you can get past Orlando Bloom's well-intentioned, but lacklustre lead, this is an ambitious, literate, wholly admirable account of a defining moment in history.
Everyone Else (2009) - Maren Ade's cracking debut is a warm, yet heart-breakingly honest appraisal of marriage and relationships that feels very up-to-date.

Most times when people talk about "bad movies" what they're really referring to are movies that are either mediocre or unintentionally stupid: lame romantic comedies with heroines who inexplicably fall over every five minutes, bloated blockbusters that conspicuously failed to deliver, ego-driven star vehicles punctured by their own pomposity, dreary dramas too po-faced and poorly acted to be taken seriously. All merely unfortunate but, save for a few instances, barely scratching the surface of the truly wretched. Bad movies - and I mean really bad movies - are evil. They inspire hatred. Hatred for the ideas they embody. Hatred for the malignant minds that spawned them. Hatred for the feelings of rage, nausea and bowel-loosening dread just thinking about them lets loose. The following movies from the past ten years did just that for me. AAAAARRRRRRRRRRGGGGGGGGGHHH!!!!!!

Norbit (2007) dir. Brian Robbins - In which Eddie Murphy demonstrates anything the Wayans Brothers can do, he can do ten times worse in a fat-suit. And wreck his chance to bag a best supporting actor Oscar for Dreamgirls! However, Eddie's collective output over this decade makes him a shoe-in for the Burt Reynolds' Award for Kamikaze Career Move.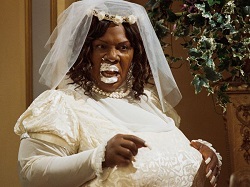 The Condemned (2007) dir. Scott Wiper - Produced by the World Wrestling Foundation, this halfwit action movie satires reality TV by having "notorious hard-man" Vinnie Jones torture, rape and abuse both his co-stars and the audience, before signing off this plea against the evils of media by machine-gunning a geeky girl drawn to reality television ("This is my f***ing reality, bitch!").
Girls Will Be Girls (2003) dir. Richard Day - Like being trapped in an elevator slowly filled with nitrous-oxide while screechy, aging drag-queens kick you repeatedly in the groin with their zircon-studded Jimmy Choos.
Every Single Movie The Wayans Brothers Made Over The Past Ten Years - Scary Movie (2000), White Chicks (2004), Little Man (2006), Dance Flick (2009), the list goes on and on and on. Why do studios keep paying the Wayans siblings to inflict so much pain and misery on the world?
B.T.K. (2008) dir. Michael Feifer - Based on the real-life "Blind Torture Kill" murderer Dennis Rader. Imagine how his victim's relatives felt knowing their loved one's sorry fates became the subject of a z-grade torture porn flick.
Alone in the Dark (2005) dir. Uwe Boll - Boll famously beat up a bunch of critics in the boxing ring. Just so he knows, I carry a gun…
Bachelor Party in the Bungalow of the Damned (2009) dir. Brian Thompson - When you think how many indie filmmakers struggle to make quality movies and get them seen, this deliberately awful horror comedy seems that much more contemptible.
Van Helsing (2004) dir. Stephen Sommers - Nowhere near as bad as other films on this list. This actually has a handful of good points despite being largely rambling and incoherent. Included solely because it remains the only movie to instil actual physical pain in me while watching it. The sound mix was so friggin' aggressive I left the cinema to take a walk in the foyer, three times!


Hannah Tough

THE GOOD UN'S:

1) Dancer In The Dark (2000) - The biggest tear-jerker of the decade, and it's a musical! Bjork was in full swing in her capacity as the self-sacrificing single mum - literally, at the end!. This film ticked all the boxes and hit all the right notes.

2) Donnie Darko (2001) - Weird and wonderful. Almost ten years on, and I'm still trying to figure out what the hell was going on! If a film has that kind of effect, it's a winner in my eyes.

3) Lost In Translation (2003) - Bill Murray playing the same old part to aplomb. A cracking soundtrack and a beautiful final shot that continues to linger in my mind.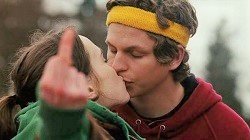 4) Eternal Sunshine of the Spotless Mind (2004)- Who'd have thought a film with Jim Carey and Kate Winslet in the lead roles would have worked so well, but that it did. With it's convoluted plot and somewhat bizarre narrative, it had me hooked.

5) Sin City (2005) - In a decade that saw the comic book explode back on to the screen, it suprised me that a Frank Miller graphic novel would be the one that won me over. A cast that turned out to be rather cracking (and creepy, in Elijah Wood's case!), with a fabulously executed reproduction of the original text, I could have watched it over and over again.

6) The Departed (2006) - Scorsese has never been top of my list (with a few exceptions) but with this crime/thriller, he's definitely won me over - and I wasn't alone. The film, despite previous nominations, saw him win his very first Oscar. Truly deserving.

7) Little Miss Sunshine (2006) - Tender hearted with huge gutsy laughs at the end. What more could you want?

8) Juno (2007) - This one had the back story: the ex-stripper-turned-screenwriter that pulled it out of the bag with this little gem. With so many gloomy projects on the screen these past ten years, God knows we needed a few laughs and this produced it by the bucket load.

9) No Country For Old Men (2007)- With so many brilliant Coen brothers films in the past decade I struggled to pick my favourite, but Bardem's dark turn just trumped the lot. The most unnerving film of the decade.

10) White Ribbon (2009) - A film that through it's silent poignancy spoke a million words. Haneke at his greatest.

THE DAMNED RIGHT AWFUL

1) Munich (2005) - The worst sex scene I have ever had the misfortune to witness, and the one time I could have seriously begged for my (then) £3.50 back.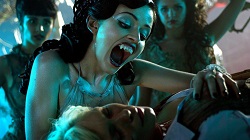 2) Lesbian Vampire Killers (2009) - So bad it's bad. Stick to the small screen lads, whilst you can that is...

3) Perfect Stranger (2007) - I expected more from you Bruce. An awful premise, an awful plot. Just darned awful.

4) Spiderman 3 (2007) - What happens when Spidey goes bad? He goes emo. Tobey Maguire donning a black wig and winking at girls down the NY streets is forever ingrained in my memory.

5) Gigli (2003) - I confess, I haven't seen this, but when a film contains the line, "It's Turkey Time. Gobble Gobble" I can be forgiven for adding it to the list outright.

6) The Pink Panther (2006) - Peter Sellers must have turned in his grave when this was released. I didn't last long in my seat.

7) The Incredible Hulk (2003 and 2008) - They gave it a couple of shots, but neither Ang Lee or Louis Letterier could save it from the depths of despair. In all the triumphs of the comic book genre, this saga failed - miserably.

8) Zack and Miri Make a Porno (2008) - Kevin, Kevin, Kevin. Diabolical.

9) The Sweetest Thing (2002) - Cameron Diaz singing a song about appendages with the phrase "Too big to go in here". Need I say more?

10) Penelope (2006) - A story about a girl that was born with a pig nose and her mother's desperate search for her to be loved. Luckily she found 'the one' in the first five minutes, unfortunately I wasted the following hour and a half expecting more. Nope.

and a special mention goes to...

Cloverfield (2008) - the worst case of shakey-cam I've ever seen, but perhaps I shouldn't have seen the South Park spoof first ("I'm so startled"). At least in their version the monsters, a herd of giant guinea pigs, was more satisfying than the originals...


Graeme Clark

The best:

I picked one standout for each year, and the others I liked as runners up.

2000: Together
It's a pity Lukas Moodysson became so shrill later in the decade, because this was a lovely film that took a sympathetic view of human nature.

Runner up: Unbreakable

2001: Mulholland Drive
David Lynch at his most innovative without being alienating, with one great performance at its heart offering us something to latch on to amidst the weirdness.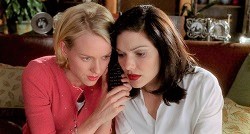 Runner up: The Lord of the Rings: The Fellowship of the Ring

2002: Punch-Drunk Love
Two people finding each other in a chaotic world and holding on for dear life: how romantic!

Runners up: Chinese Odyssey 2002, City of God

2003: School of Rock
It's all about the music in this, generating an infectious sense of fun that like the best teachers is truly inspiring.

Runners up: Belleville Rendez-vous, Interstella 5555

2004: Dead Man's Shoes
Shane Meadows' films falter in their final acts for me, but this was a terrific thriller that took you off guard for being so funny and worrying, often at the same time.

Runner up: Howl's Moving Castle

2005: Corpse Bride
Stop motion really made its mark as the connoisseur's animated medium this decade, and Tim Burton was born for this kind of thing.

Runner up: Zathura: A Space Adventure

2006: The Fall
This stood out for its tenderness, splendour and "surely nobody in their right minds would ever attempt this" scale.

Runners up: Exiled, Ghosts, Monster House, A Prairie Home Companion, Superman Returns

2007: Zodiac
A deeply unsavoury subject, yet assembled with attention to detail equal to the characters' obsession making this David Fincher's best.

Runners up: Hot Fuzz, The King of Kong, No Country for Old Men, Sweeney Todd, The Demon Barber of Fleet Street

2008: Be Kind Rewind
Gently illustrates the improving power of films to bring people together, as well as being sweet and hilarious into the bargain.

Runners up: Gran Torino, Man on Wire, WALL-E

Moon (2009)
I haven't seen much from 2009 at time of writing, but this inspired study of loneliness will be tough to beat.

The worst:

I don't go out of my way to see movies I know I will hate, but these caught me off guard. In no particular order:

300 (2006)
Two grindingly tedious hours of chest-beating.

Transformers (2007)
I expected a fun romp, not a merchandising blizzard. And there were those who were surprised the sequel was bad.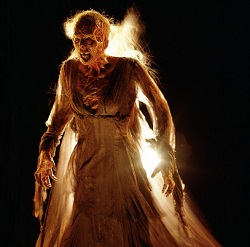 Darkness Falls (2003)
Plenty of people cited the remakes and sequels as the worst of the decade's horror, but this garbage was an original.

Intermission (2003)
There were many Britcoms in the wake of Trainspotting that mistook cruelty for humour, this was one of the worst.

The 25th Hour (2002)
The worst kind of macho bullshit is when it thinks it has a message to convey; this was interminable.

Mega Shark vs. Giant Octopus (2009)
Nice title, shame about the incredibly boring film it was attached to.

Gigli (2003)
I was hoping for so bad it's good, I got so unfunny it's chilling.